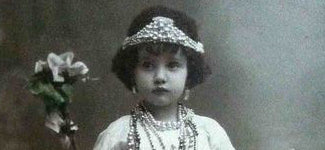 Being a Princess we're sure isn't all it's cracked up to be: with a demanding travel schedule, complex royal etiquette rules to follow, and constant public scrutiny. But wouldn't it be nice to have access to all those magnificent, bespoke jewels? Each piece has it's own fanciful history, and to wear one (or a few!) is a great privilege.
Princess Diana, Duchess of Wales, was born Diana Spencer, a family of British nobility and with royal ancestry. In 1981, she became engaged to Prince Charles, and on July 29, 1981 the two were wed at St. Paul's Cathedral. Despite being gifted the Cambridge Lover's Knot tiara by the Queen on her wedding day, she opted to wear her own family's tiara, the Spencer Tiara, which is made of multiple pieces of family heirloom jewelry and has been in the Spencer family since the 18th century. This tiara had been worn by many Spencer women on their wedding day, including Diana's sisters, Sarah and Jane, and Diana is thought to have worn it to keep up family tradition. It was also said to be much more lightweight and comfortable to wear than the one gifted to her by the Queen. The Cambridge Lover's Knot Tiara did become one of her favorite pieces, though, as she wore it regularly to royal and state functions, and Kate Middelton has been known to sport it often. As of now, the Spencer Tiara has not been worn in public since Diana's death in 1997, and has only been in few museum exhibits. Kate and Meghan are likely to never wear the Spencer Tiara, unless the Spencer family loans it to them.
The Spencer Family Tiara, worn by Princess Diana on her wedding day to Prince Charles
Princess Diana in the Spencer Tiara on her wedding day
The Cambridge Lover's Knot Tiara, loaned to Diana on her wedding day
The Lover's Knot throughout the decades, from L to R: Queen Mary; Queen Elizabeth II; Princess Diana, and Kate Middelton, Duchess of Cambridge, in the Cambridge Lover's Knot Tiara
Kate Middleton, Duchess of Cambridge, wore the Cartier Halo Tiara, also known as the Scroll Tiara. It was made in 1936 and is encrusted with nearly 1,000 diamonds, and was worn by the Queen Mother Elizabeth I after being gifted to her by King George VI on their anniversary. The Halo Tiara was handed down to the current Queen Elizabeth II on her 18th birthday, who has never worn it in public. Her sister however, Princess Margaret, is known to wear it often.
The Cartier Halo Tiara
Kate Middleton, Duchess of Cambridge, in the Cartier Halo Tiara on her wedding day
Meghan Markle, Duchess of Sussex, wore the 1932 made Queen Mary Diamond Bandeau tiara. It features platinum and diamonds, and has eleven separate sections and a removable brooch that dates itself back to 1893. The brooch and original bandeau were originally gifted to Princess Mary (later Queen Mary) in 1893 by the County of Lincoln upon her marriage to Prince George, Duke of York, later becoming King George V. Both the bandeau and brooch were passed down to Queen Elizabeth in 1953. She chose to wear this crown along with her custom Givenchy veil, which featured flowers and designs representing the Commonwealth countries, as well as California Poppies of her home state of California.
The Queen's Diamond Bandeau Tiara
Meghan Markle in the Queen's Diamond Bandeau Tiara on her wedding day