People We Love: Aldo Cipullo, Jewelry Designer for Cartier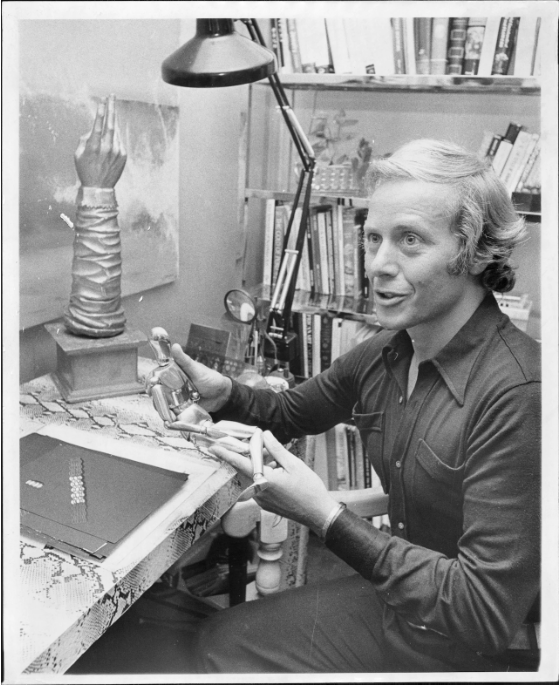 From his birth in 1936 in Naples, Italy, Aldo Cipullo was born into design. His father owned and operated a costume jewelry manufacturing business in Italy, and after graduating school Aldo began an apprenticeship there where he would learn the tricks and trade of the jewelry industry. In 1959, the young, ambitious Italian designer immigrated to America to pursue larger interests in jewelry and fashion design.
It was not long before both Tiffany & Co. and David Webb hired him, but his biggest claim to fame was when he began working for Cartier in 1969. Not even a year into his employment there did he design his most famous piece, the Cartier Love Bracelet, and shortly after this piece, he created the "Juste Un Clou" collection, or the iconic Nail Collection. To add to his legacy, he is the only Cartier designer to date allowed to have their signature on his designs for the company.
According to Cipullo, the Cartier Love Bracelet was made to be a love symbol that looked "…semi-permanent—or at least, require a trick to remove…" and should, "…suggest an everlasting quality." His design did just that: with millions sold to date, with the piece still coveted by many including celebrities and more. In the beginning, the bracelet was made of sterling silver plated with gold and sold for a whopping $250, but in the coming years was fashioned into solid 18 karat gold. In 1979, a diamond- studded version was created and is still sold today. At the time, jewelry was usually picked to match a specific outfit, but this bracelet revolutionized the way people wore jewelry: as the piece was meant to never be taken off (unless using the screw driver provided), and can seamlessly be worn day or night, with or without other jewelry.
The Juste Un Clou collection, or French for "Just a Nail", is as iconic as the Love Bracelet but contains more bold, statement pieces. Designed in 1971 with the concept of a nail wrapping around the wrist, the style mimicked the revolutionary spirit of New York in the 1970's- a time when art scenes and social change took precedence in American life. The collection was re-released in 2012, and today Juste Un Clou also boasts necklaces, rings, and earrings made in the design's iconic style. Should one chose to add pave diamonds to their piece, the price can be as high as $43,000. This design has been knocked off by many amateur designers and, like the Love Bracelet, counterfeit pieces can be found everywhere. Thanks to Aldo's genius designs, the nail and screwdriver motifs can be seen throughout much of Cartier's brand.
Cipullo's long time stint at Cartier ended in 1974, when he left to create his own atelier, designing collections of costume and men's jewelry. During this time he created pieces featuring the dollar sign, to which he described as "the electric eye that reflects the mood of this country." In 1978, The American Gem Society commissioned him to create a collection of pieces using gems mined in North America. He chose to use turquoise from Arizona, sapphires from Montana, diamonds from Arkansas and more. These pieces are now held at the Smithsonian Museum.
Although his career was cut short in 1984 from a double heart attack at the age of 48, his legendary designs live on and are continuously worn today. The lasting impressions he made on the luxury jewelry market are still celebrated, bringing in millions of dollars in revenue each year, even 24 years after his passing.
Illustration of Cipullo's designs for Cartier via Women's Wear Daily
Vintage ad for Cartier's Love Bracelet
Vintage Love Bracelet in solid 18k gold. Notice Cipullo's signature.
Elizabeth Taylor in her Love Bracelet, on the set of Under Milk Wood in 1972
The Juste Un Clou bracelet in rose gold with pave diamonds. Retailing for $43,000 on Cartier.com
Cartier's gold, chrysoprase, and coral necklace designed by Cipullo. This piece was sold at auction for Sotheby's.
The I Love You Necklace
18k gold, lapis, and coral earrings designed by  Cipullo for Cartier, currently retailing for $8,450 on beladora.com
Aldo Cipullo Bracelet circa 1976
Aldo Cipullo ring circa 1970
One of a kind hair comb designed by Cipullo for the American Gem Society, gifted to the Smithsonian in 1989. It uses American peridot and fresh water pearls.
The icon himself, Aldo Cipullo.