People We Love: Charles Loloma, Jewelry Designer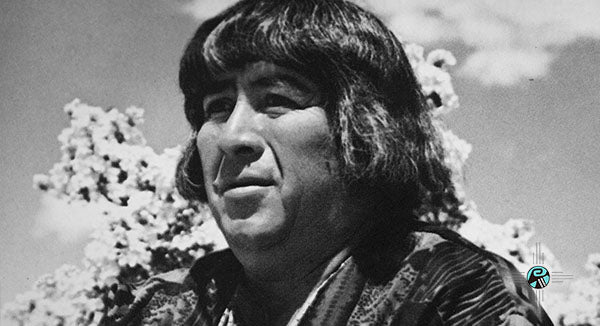 "I wish to create a relationship between the earth and myself. Sometimes we do not realize what we are kicking over. I want to make the soul come out."
Charles Loloma was an artist's artist- he was a master with pottery, painting, print making, and of course jewelry design. Even though originally dismissed as traditional Native American art by his fellow tribesmen, he is arguably one of the most influential jewelry designers in the Native American style, and helped bring American Indian style of jewelry into the mainstream during the mid-20th century.
 Loloma was born on January 7, 1921 to the Badger clan of the Hopi tribe in the village of Hotevilla on Third Mesa Hopi reservation. His father and mother, Rex and Rachel Loloma, were weavers and basket makers. Throughout his youth, he excelled in painting and was asked to create reproductions of the Awatovi murals for the New York Museum of Modern Art. He married Otellie Pasiyava, a fellow potter, and together in 1949 they earned their certificate in ceramics and pottery from Alfred University in Alfred, NY. They perfected their pottery making skills and introduced their newfound techniques to the Hopi tribe.
 In 1954 they opened up a pottery shop in Scottsdale, AZ, and it was here where he discovered his passion for jewelry making. He often took something standard and reinvented it with Hopi inspiration, such as Egyptian figurines, or even his tribe's own traditional jewelry. In fact, he was often criticized by fellow Native Americans for straying from the traditional formula of using turquoise, red coral, and sterling silver. Some of his favorite stones to craft with included sugilite, pearls, malachite, lapis lazuli, and even fossilized ivory and wood, while using turquoise to accent his designs. He is also known for mixing metals, such as a gold bezel mounted on a silver cuff or shank.
In 1962 he and Otellie became some of the first instructors of the Institute of American Indian Arts, where Charles became the director of the plastic arts department. During this time he refined his jewelry making abilities by playing with different types of casting, inlays, and stone setting. He is known for using "inner gems" set into his pieces because he believed that everyone has their own "inner gem." Loloma's work is often compared to that of Mondrian, for using linear and rectangular shapes that fit next to one another while creating an abstract or unusual texture and feeling. He's made custom pieces for the Queen of Denmark, and had visited many countries to promote his craft including Egypt, Japan, France, and Columbia. His experience and talent won him seats on both the American Indian Historical Society of Princeton University, and of the American Indian Center for Living Arts in New York. 
 Charles died in 1990, but his legacy still inspires Hopi and other Native American jewelry designers. Today, his jewelry is worth thousands of dollars as they are extremely well crafted, many of them being one of a kind pieces. "What I'd like to be known for is beauty," Loloma has said. Ironically, the word "loloma" translates to "beauty" in the Hopi language.
Lapis lazuli, coral, petrified wood and ivory, turquoise and gold cuff very much resembles a Mondrian painting. c. 1975
Sterling silver casted in the tufa style, with  turquoise. From Christie's Auction, estimated $18,750.
Coral, Lapis, turquoise on sterling silver.
Gold ring with "inner gem" inlay of turquoise, lapis, and coral.
An older style, citrine set in gold.
Gold ring with lapis, coral, and turquoise, with gold accents.
Turquoise, coral, and lapis inlay earrings set in gold.
Sterling silver earrings with coral, fossilized bone and wood.
Pendant in the shape of the human form, with lapis, turquoise, coral, fossilized ivory and wood, c.1970
Lapis, turquoise, and coral pendant in gold human silhouette.
A gorgeous cuff and ring set set in gold.
Charles Loloma's signature in 14k gold.
Here is a rare home video of Charles Loloma with some friends.