People We Love: My Grandmother, Marcelle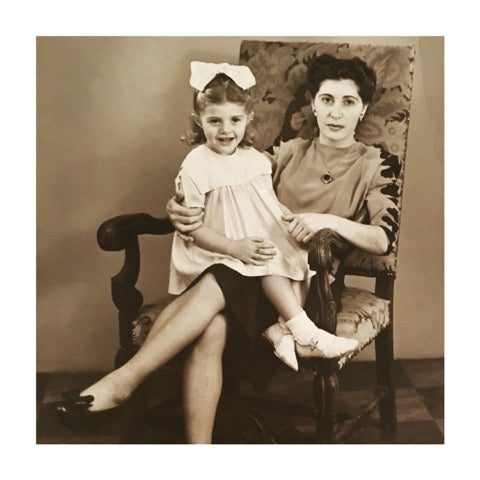 On this International Women's Day, there is one woman in particular that I would like to pay homage to; a woman who encouraged me through all of my pursuits and who left an indelible stamp on my life, my maternal grandmother Marcelle. 

Marcelle was born in Casablanca, Morocco in the 1920's. As a young woman, she was a ground hostess for a Danish Airline company. At the airport in Morocco, she met and fell in love with a Danish pilot with whom she soon married and had a baby (my mother) and lived with in Casablanca for some years. Around 1947, a few years after WWII, they decided to move to Copenhagen. It was there in the middle of the 20th century that their marriage dissolved, at which time she immigrated as a single mother to the United States. After becoming a US citizen, being educated about politics were very important to her and thus she valued every chance she had to vote. She was an ideal American and proud to be one. She took as many jobs as one can work to take care of her daughter, my mother, and even in the most difficult times made her priority to be the best mother possible. As an immigrant, she was fascinated with all things Hollywood, which I believe contributed to her forward-thinking personal sense of style in terms of wellness and health, beauty and self-care. She loved jewelry and fashion and rarely left her house without hair, makeup, clothes and jewelry on point. My grandmother was very active in caring for my brother and I while we were growing up: she often took us to museums, movies, art classes, and taught us how to appreciate music, art, and cooking. It is to her that I feel I can attribute so much of my own creativity and appreciation of art and design.

She was an excellent person- always looking out for people less fortunate than her by being very generous with her belongings even though she had very little. She always approached everyone she met with a warm smile, and was fair and equal to all. She spoke six languages and could find a commonality with anyone she chatted with. A true example of what it is to be a global citizen. She was a champion of women and felt like women could achieve anything they wished. So today on International Women's Day I think of her. All she accomplished, all she gave, what she stood for is what we all should stand and reach for. Equality. Love. Perseverance. Strength. 

Celebrate those that came before us to pave the way as I celebrate my grandmother. We stand united in these new times shattering ceilings, records, and outdated methodologies. The future is Female! 


Happy International Women's Day!