People We Love: John Edward Lautner, Architect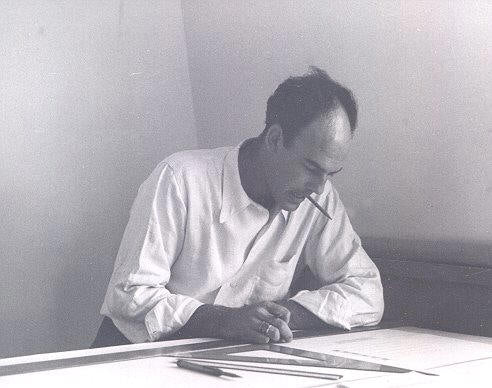 Keeping in theme with my love for architecture, this week's blog post is in honor of John Edward Lautner (1911- 1994), architectural pioneer and major contributor to the Googie and Mid Century art movements of the 20th century. Both sleek, cool, movement and bold, angular shapes characterize his work. Many of his projects were residential and today can be considered landmarks.
The Chemosphere, built in 1960 and also know as the Leonard Malin House, may be his most famous. It is a 2200 square foot octagon that sits on a single 5 foot wide pole in the Santa Monica Mountains of Southern California. The pole is part of a larger 20 foot wide disc that is buried in the ground, keeping the house from toppling over during earthquakes and heavy rains. It is so high up and on a slope that it is only reachable by funicular.
The Sheats- Goldstein residence is a severe remodel originally built between 1961-1963 that Lautner made his own. Everything from the fixtures to the furniture was artfully placed to encompass the architect and owner's dream of "perfecting" the house. It took two decades to create the home, and Lautner worked on it up until his death in 1994.
The Garcia House is also known as the Rainbow House, and like its sister houses in Los Angeles; the Garcia House is a modernists dream. Originally built in 1962, it had undergone many renovations until 2002 when it's owner, actor Vincent Gallo, sold it to a Dreamworks executive. The arched roof and floor are complimented by cubes of colored glass, hence its nickname, and like many of Lautner's projects, is built upon stilts.  An architectural masterpiece, the stunning details put into this project are meant to marvel at.